For fans and connoisseurs of the group KISS, this is definitely the right choice. The band came 1995th The musicians in Budapest with a desire to faithfully play the songs of their beloved band KISS, using the visual elements of the legendary group, trying to identify their appearances with them.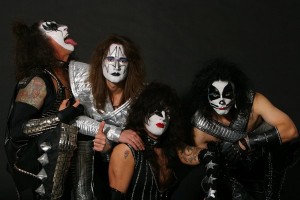 Calls for their appearances are becoming increasingly frequent. They get identical costumes, shoes, makeup…, also as authentic instruments. They alsko use all the specifics of the band, fiery guitar, spitting blood, fireworks, sirens, etc.
True career of this band begins to 1998th year. Performed throughout Europe, as well as representatives of the seventies and eighties music festivals and clubs in Germany, Austria, Switzerland, Great Britain, Holland, Belgium, Italy, Czech, Slovak, Croatian, Romania and Russia. The songs were recorded for different KISS-tribute albums, as the 1999th ? Kiss Deutschland? A Tribute zu KISS? "Shout It Out Loud" or 2002. Album "Sharkbite Records unlackiert" Thief In The Night? releaed in the U.S..
In spring 2001. the Hungarian publishing house "Nephilim Records" recorded his first album Carnival Of Songs which includes 12 songs the group KISS. With this album, get the title: KISS after The KISS
2003rd The Hungarian publishing house TomTom Records published their second album Plug It Out!. After the release of this album band went to a very successful tour Unplugged-Tour in Hungary and Germany. They had dared to play songs like Rip It Out or We Are One! Kiss of the original has never performed live.
The third album was released in 2006. and was also a published by the TomTom Records. Album is recorded live at the legendary rock club Wigwam? in Budapest, which contains 15 songs the group KISS.
KISS FOREVER BAND group consists of:
Zoltán "Starchild" Vary "
Pocky 'The Demon'
Zoltán "Space Ace" Maróthy "
Radek "Catman" shekel "