Banks of the river Drava, called Beli kipi, always were the habitat of the ancient Indians, a peaceful but bold Bukkake tribe, leded by their fearless chief – Long Bannana!
The white tents of the peaceful, picturesque Indian village cloaked by the thin thread of smoke from the hearth … All in all a typical Indian daily life … So all exuded with peacefull, almost idyllic rural life while, out of nowhere, on the banks of the river did not appear Duck Norris – the famous trapper stray, carrying in the hands one of the most beautiful native – Camel Toe … and of course, an accident is imminent …
Yes, you guessed it … Trash Association filming new movie, and this time the theme is the Wild West and all the mishaps .. and of course in the true spirit of trash cinema and this time will take merciless struggle between good and evil …
Trash association is in full swing shoting a new film and sam tekes are filmed in an Eco village in Žumberak, environment that proved to be very ideal for the action scenes of evil Mexicans … and now everything is going according to planned schedule.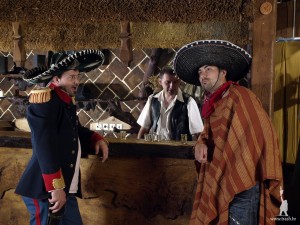 Preparations for the Festival are also in progress, so far at the Festival reported more than thirty films that will fight for the most prestigious award – the Golden Chainsaw.
Remember that the deadline for submitting applications, and films at the Festival, at the request of some authors, shifted so that all who still want to send their film creations can do until 17th of June 2011.
All the details and list of events at facebook page:

and on twitter: